ECVO exam and new member of our kennel, 08.03.2019
On Friday 08.03. our dogs passed the ECVO examination :-) The results are more than great and we are very happy. Each dog got the certificate. On Sunday 24.02.2019 came to our life new dog "Sancho", whole name Toboso Del Majaceite from Spain. Thanks to Marta and José for such a great puppy!
Crufts dog show Birmingham, 07.03.2019
The biggest show in UK - Crufts. Our offspring Duende Wavelet showed perfectly. Thank you to his owner Tracey Whitehead for presentation!
Health results of our "children", 06.03.2019
Fiesta Wavelet - HD A, ED 0 (congrats to family Orawska in Poland), Funky Wavelet - HD A, ED 0, PRA N/N (congrats to Tenna Grenaae from Denmark), Havana Wavelet - HD A, PRA N/N, ECVO clear (congrats to owner Marion Pawlak from Germany) and our Ibiza Wavelet - HD B, ED 0. We are happy!
Joensuu, Finland 02-03.03.2019
Gracie Wavelet was at the show in Joensuu, judge/Saturday: Zorica Blomqvist - result: Very good 4/5, judge/Sunday: Darko Drobnjak - Excellent 2/3, CQ. Congrats to Kirsi Tanskanen,FI
Victory show, Bratislava 23.02.2019
The judge: Eva Felszéghyová,SK - Ibiza Wavelet won Excellent 1,CAJC and Victory Junior Winner 2019, so she also became Juniorchampion of Slovakia. Tiago showed to perfection as always and he won získal Victory Winner 2019.
Westminster dog show, New York,USA 11.02.2019
In american Manhattan was the biggest dog show in year. Our kennel was presented by 3 dogs - Ch.USA Gianna Versace Wavelet was handled by me and she won the BOS title (BEST FEMALE) !!! GCh. Deseado Wavelet won Award of Merit males (3rd BEST DOG) handled by Nina Fetter. Mult.Ch. Emanuell Wavelet showed perfectly with Janet Rahn, however the judge Nikša Lemo from Croatia prefered curls instead of long coats and cords. We are very happy from these results!
national show Charleston,USA 26-27.01.2019
In american Charleston was a weekend show where our "child" Emanuell Wavelet won both days BOB and BEST IN GROUP 4 :-) Congratulations to his owner and handler Janet Rahn and family!
International show Nitra, 27.01.2019
The judge: Jana Janek (SK), Rayaragua Billabong - Exc.1, CAC and Muffin De Valneboeiro - Exc.1, CAC :-)
Orlando circuit, Florida - USA, 11-16.12.2018
In american Orlando was the most important show of the year - AKC Royal Championship. Our pups did great job, thanks to whole DGS team (Janet Rahn, Faith Ott, Chelsy Lancaster and Nina Fetter). Results are under pics:
1st day - 11.12.2018 (judge: Carmen L. Battaglia,US)

GCh. DESEADO WAVELET - Best of breed


GCh. EMANUELL WAVELET - Select dog


Ch. EYE OF THE TIGER WAVELET - showed well


2nd day - 12.12.2018 (judge: William E. Usherwood,US)

GCh. DESEADO WAVELET - Best of breed


GCh. EMANUELL WAVELET - showed well


Ch. EYE OF THE TIGER WAVELET - showed well


3rd day - 13.12.2018 (judge: Carol S. Brown,US)

NATIONAL SPECIALITY SHOW of SWD CLUB OF USA

GCh. DESEADO WAVELET - showed well

GCh. EMANUELL WAVELET - Best of breed


Ch. EYE OF THE TIGER WAVELET -

showed well




4th day - 14.12.2018 (judge: Michael Folkner,US)

GCh. DESEADO WAVELET - Select dog

GCh. EMANUELL WAVELET - Best of breed


Ch. EYE OF THE TIGER WAVELET -

showed well




5th day - 15.12.2018 (judge: ?,US)

- puppy show


6th day - 16.12.2018 (judge: ?,US)

GCh. DESEADO WAVELET - Best of breed

GCh. EMANUELL WAVELET - Select dog

Ch. EYE OF THE TIGER WAVELET - Award of merit

2x International show Nitra, 8-9.12.2018
The last show of this year was in Nitra. On Saturday SWDs were judged by Mr. Otakar Vondrouš, where Aisi (I see Fire Wavelet) won CAJC and was in shortlist JUNIOR BIG. Ibiza Wavelet won CAJC and BOS and Tiago won CAC, CACIB and BOB. On Sunday Aisi won CAJC and BOB, Ibiza CAJC and BOS, Tiago CAC and CACIB. Tiago also ended the new SLOVAK SHOW CHAMPION TITLE! The judge was Mr. Alessandro Zeppi from Italy :-)
New litter "J" and Fiesta Wavelet, 10.11.2018
On Saturday 10.11.2018 was born our new litter "J", Muffin got 10 beautiful pups. There was also a big international show in Kielce, where Fiesta Wavelet got CAC and res.CACIB! Congratulations to owner Maria Orawska :-)
Another champion in our family, 28.10.2018
On the international dog show in Bratislava was not only I see Fire but also his sister Isabella Wavelet, who all three days won Very promising 1 with lovely critique so she fulfilled the condition for the Slovak puppy champion title! Big congrats to her owner Veronika Hudáková and family!
International show Bratislava, 26.10.2018
Absolutely very first show for I see Fire Wavelet who became a history for our kennel. Aisi won BEST IN SHOW PUPPY on International Dog Show in Bratislava!! Thanks to everybody who made our next dream came true :)
Hazelnut Wavelet was tested and he is fully healthly boy :-) 25.10.2018
Great new came from Norway, kennel Aquanders, where lives our boy Oso - Hazelnut Wavelet. Oso is PRA N/N, ECVO and Gonioscopy clear, CHG N/N, NAD N/N, DM N/N, and of course we are still waiting for HD and ED results. Congrats to owner Elisa Andersen!!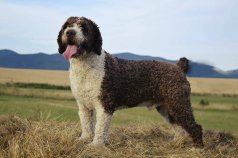 New Champion in our kennel, 23.10.2018
Ibiza Wavelet officialy became Slovak puppy champion :-)
National show Wilmington, USA 21.10.2018
GCh.Deseado Wavelet won again BEST IN HERDING GROUP and later he won BEST IN SHOW 2. Big congratulations to the whole american team !!
European dog show Warszaw,PL 11.10.2018
The judge: Zdenka Jílková (CZ).
Hazelnut Wavelet - exc.2/4, Rayaragua Billabong exc.2,res.CACIB /7, Ibiza Wavelet VN 2/4, Delicatessa Wavelet exc.3/4.
Speciality Gundog show Košice,SK 06.10.2018
The honorable judge: Vilmos Kardos (thanks for amazing judgement). Muffin - CAC, Winner of Spec.show 2018, BOB, Tiago - CAC, Winner of Spec.show 2018, BOS, Max - CAC and Ibiza - VP1, 2.BIS puppy and she became also Puppy champion of Slovakia :)
National dog show chorzów and shows in USA 02.09.2018
Our "children" GCh.Cambia Wavelet in american Raleigh (North Carolina) had very successful weekend! She was BOB all days and also BOG 4 and last day BOG 2. Thanks to handler Arvind de Braganca! GCh.Deseado Wavelet handled by Nina M.Fetter, he was all days BOB and also BOG 2!
On Saturday was dog show in Chorzów, Poland where our two girls Delicatessa Wavelet and Muffin De Valneboeiro both ended Polish championships.
International show Bratislava,SK 18.08.2018
Tiago (Rayaragua Billabong) got his 4th CAC, for title absolutely Slovak Show Champion (he still has to get two CACs more). Olivia Vom Hause Kristo in puppy class was on her first show ever where she got Very promising 1. Ibiza Wavelet was in class minor puppy where she got Very promising 1 too. Thanks to judge Otakar Vondrouš from CZ.
World Dog Show Amsterdam,NL 9-10-11.08.2018
Candella Wavelet from our C-litter was unique representat of our kennel at World Dog Show in Amsterdam. At BENELUX Winner 2018 show she won the OPEN BITCH class under judge Barbara Muller-CH, at Speciality for SWDs under slovak judge Vladimir Piskay she won OPEN BITCH class too and last day at WDS under Tatjana Urek from Slovenia she got "Excellent" without placement. Pretty good! Congratulations to her owner Maxim Kukshenev from Russia!
Club show Námešť na Hané,CZ 28.07.2018
The judge for Club show of water dogs was Zdenka Jílková from Czech Republic. Our Tiago won BOB and Club Winner 2018, Delicatessa CAC, Ibiza Very promising 1. We can mention that Tiagos daughter from Poland (Farfalla Bona Espero) won BOS and Club Winner 2018! Well done to all 9 Perros entered in this show! :-) PS: Tiago and Deli won 3rd Best pair in show!!!
First halfyear was very successful for Wavelets in USA, 18.07.2018
We would like to send congratulations and thank you to USA! All 4 Wavelets bred by us and showed/owned by Janet Rahn are now the most successful SWDs in USA. We are very happy and proud!! Thank you to all from team for making this possible!!
Veľká Ida International show, 08.07.2018
Delicatessa became a new Grandchampion of Slovakia, Tiago won BOB, Oso first time in junior class CAJC and JBOB and Ibiza on her first show got "Very promising 1" with lovely critique:) The judge was FCI 8 group specialist Mrs Felszéghyová.
Nitra International show, 10.06.2018
Under portuguese judge, breed specialist José Homem de Mello our Delicatessa Wavelet won BEST OF BREED and Crufts Qualification 2019, Tiago became BOS with CQ 2019 too and Hazelnut Wavelet became new PUPPY CHAMPION OF SLOVAKIA !!!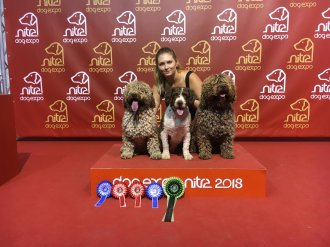 Show weekend in Finland, 30.05.2018
In Finland was a national show where participated Fortuna (picture 1-2) and Gracie Wavelet. Thanks to all owners :-)
Successful weekend for Wavelets, 21.05.2018
In Sweden there was an international dog show where Eternity Wavelet ended her title Champion of Sweden. Gch.Deseado Wavelet in Ohio, USA won first place in Herding group and Mult.CH. Emanuell Wavelet (picture 3) won third place in Herding group in Tennessee. On Saturday in Slovakia we had a club show for flushing and waterdogs, where Hazelnut Wavelet won BIS puppy 1, Ch.Delicatessa Wavelet won Club winner 2018 title and BOB!! and Rayaragua Billabong won Club winner 2018 and BOS!! Congratulations to all Wavelet kids :-)
International show Stara Pazova, Serbia 29.04.2018
Delicatessa Wavelet and Rayaragua Billabong became new Champion of Serbia, thanks to judge Marta Šipoš.
National show Perry, Georgia USA 15.04.2018
Emanuell Wavelet ended his championship in 2 weeks!! Congrats Janet Rahn!!
National dog show Bratislava,SK 18.02.2018
Hazelnut Wavelet won Very promising 1, Castaňo Wavelet won Exc.1,CAC and became New CHAMPION OF SLOVAKIA and Emanuell Wavelet in champion class won Exc.1,CAC,BOB and National Winner of Slovakia 2018. The judge: Gabriela Ridarčíková,SK.
International Dog Show, 17.02.2018
Ch. Emanuell Wavelet won in champion class Exc.1,CAC,CACIB,BOB! Thank you judge: Vig Orsolya,HU
Westminster dog show, New York, USA 12.02.2018
GCh.USA, Ch.US, Cambia Wavelet won the Select bitch!! Congrats to her owner Janet Rahn !!! Video from breed judging here: http://www.westminsterkennelclub.org/breed-results/breed-videos-2018/SWTR-2018-video/
Duo Cacib Nitra,SK 10-11.02.2018
Mult.Ch. Rayaragua Billabong both days won his class with Exc.1,CAC,CACIB,BOB and he ended the title Grandchampion of Slovakia! Emanuell Wavelet both days Exc.1,CAC, and first day also res.CACIB. Thanks to both judges for nice judgement!
Successes in v USA, our Wavelet kids 02.02.2018
GCh.USA, Ch.USA Deseado Wavelet (white-brown) was multiple placed in group as BOG 1, BOG 3 and BOG 4. GCh.USA, Ch.USA Cambia Wavelet (white female) also won Herding group and both youngest Wavelet twins - Gianna and Gucci soon become Champions of USA! Congrats and thanks to owners Janet Rahn and Faith Ott, handler Nina Fetter and whole team!!!